Location: Mason, OH

Phone: 513 713-5476 or 937 477-0793
E-mail: davidlorenz@usa.com

Do you need to archive or reproduce your original art?
Are looking for a way to build a portfolio or catalog your art work?
Giclee 42 is the place for you! Working with artists is all we do.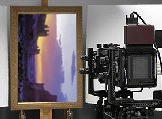 Digital Capture: BetterLight - the Better Choice



The starting point for archiving or reproducing an original piece of art is a quality digital scan.
Giclee 42 uses a 4x5 studio camera with a BetterLight scanning back, the same camera used by top museums to
archive their collections.

The BetterLight is a high-end digital scanning back paired with a large format camera that enables us to make a high
resolution scan, capturing every detail of your art.

The resulting digital files, up to 618 mb in Adobe RGB colorspace, can be used for giclee printing; converted to CMYK for publishing; used for product printing; or reduced in size for use in web design.

If you already have digital files or your art is created in the computer, we can work from your files.
They can be uploaded to our FTP site for your convenience.



Editing:


With 30 years combined digital darkroom experience, Giclee 42 can apply their unique skills in PhotoShop to produce
a superior digital file for printing. We are trained artists with a background in Fine Art Photography and printing.



Giclee Printing:


A giclee (a high quality print from an inkjet printer) is only as good as the inks and media used.
At Giclee 42, we use Epson wide-format printers, archival pigment inks, and pH neutral fine art papers & canvas.
A printed canvas is finished with three layers of UV resistant varnish for long lasting color and clarity.

Large prints are no problem, we can print up to 43.5 inches wide on paper and 40 inches wide on canvas by
whatever length you need.



Fullfillment:


Giclee 42 will archive your digital files along with an approved proof.
Fullfillment of additional prints is as simple as a phone call or e-mail, no need for you to invest in a large inventory.
There are no minimum orders and no volume discounts.



Products:


We carry traditional printing substrates, and offer a wide variety of contemporary products as well.
If you want to present your buying public an opportunity to purchase your art or need small items for an art show,
we can help. Giclee 42 can produce mugs, coasters, ceramic tile, glass, metal & fabric prints.

Are you looking for something new and unique? Check out our PRODUCTS page.